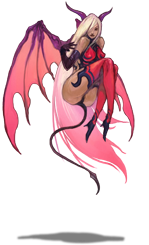 Succubus
is a demon-type enemy from
Kingdom Fantasy
. It can be encountered at
Memorio Ruins
.
Statistics
Edit
HP: 10432
MP: 238
Strength: 90
Spirit: 30
Defence: 25
Agility: 141
EXP: 8233
Lotus: 767
Drops: None
Elemental Immunities: None
Elemental Weakness: Wind (x1.5)
Status Immunities: Death (x0.0); Poison (x(-0.5)); Blind (x0.0); Silence (x0.0); Confusion (x0.0); Parylisis (x0.0); ATK up (x0.0); DEF up (x0.0)
Weapon Weakness: Gun
Abilities: Body Ram; Paralyse; Frozen
This monster is immune against ground physical attacks, long range weapons will give him some damages. Use wind based magicks (weakness) or any other kind of magicks to dispose of it.