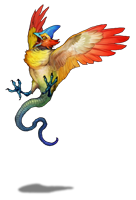 Rainbird
is a bird-type enemy from Kingdom Fantasy. It can be encountered at Glun'sa Cavern and the Glumat Volcano.
Statistics
Edit
HP: 7212
MP: 234
Strength: 65
Spirit: 28
Defence: 25
Agility: 137
EXP: 6700
Lotus: 976
Drops: Locomotor (13%)
Elemental Immunities: Thunder (x(-0.5)); Water (x0.5); Ice (x0.0); Earth (x0.5); Wind (x0.5)
Elemental Weakness: Fire (x1.5)
Status Immunities: Death (x0.0); Poison (x(-0.5)); Blind (x0.0); Silence (x0.0); Confusion (x0.0); Paralysis (x0.0); ATK up (x0.0); Def up (x0.0)
Weapon Weakness: None
Abilities: Body Ram; Hypertension; Thunderbolt (if Party's level is above 29); Paralyse.
Start by casting Cold on it, in order to decrease its Agility. After that use regular attacks and spells such as Tidal Flames or Eruption.