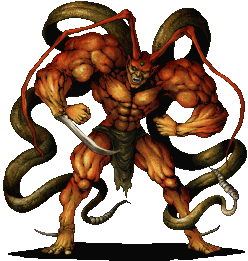 Behemoth
is a beast-type enemy from Kingdom Fantasy. It can be encountered at Glun'sa Cavern, Dontoria Coast and Umbunto Plains.
Statistics
Edit
HP: 10499
MP: 234
Strength: 67
Spirit: 25
Defence: 30
Agility: 118
EXP: 8213
Lotus: 1049
Drops: Great Potion (20%); Teleport Stone (13%)
Elemental Immunities: Water (x0.0)); Fire (x0.0); Ice (x0.0); Thunder (x0.0); Earth (x0.0)
Elemental Weakness:
Status Immunities: Death (x0.0); Poison (x(-0.5)); Blind (x0.0); Silence (x0.0); Confusion (x0.0); ATK up (x0.0): DEF up (x0.0)
Weapon Weakness: None
Abilities: Attack; Body Ram; Thunderbolt (if Party's level is above 27)
Don't bother using elemental magicks on him. Just wind spells and magicks like Sleep will be efective against him. Try to use non-elemental magicks and regular attacks.