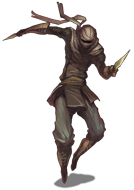 Assasin is a helden enemy from Kingdom Fantasy. It can be encountered at Jenusy Mts.
Statistics
Edit
HP: 515
MP: 34
Strength: 19
Spirit: 11
Defence: 18
Agility: 47
EXP: 39
Lotus: 50
Drops: None
Elemental Immunities: None
Elemental Weakness: None
Status Immunities: None
Weapon Weakness: Bow and Gun (Long Range weapons)
Abilities: Attack, Triple Cut
San should come equipped with a bow. Simple physical attacks will put this enemy down quickly.
"Assasin" is the misspelling of "assassin."